1995:CYNDI LAUPER [Japan Tour]
In 1995, Shuichi Fukatsu, the founder of Prism Co., Ltd, was asked a rather unique offer. It was to project images onto Cyndi Lauper's chest during her live show in Japan. He was shocked by such an interesting offer. After succeeded the first show, he was convinced that this unique and free inspiration will be the key to the future.
3 months after the Japan tour, he founded Prism. This was also means the start of the never ending journey for pursuing infinite possibilities of projection images.
Since then we have always been trying and challenging something creative and unconventional.
2004 : Voyage Produce
An original stage performance consists of French Nouveau cirque, projection images and performance. It recorded 7000 audiences (2 days at Sapporo art park), which is a remarkable number for this type of performance.
---
2006: Passatism Produce
One night only show with a world-famous French trapeze group D-HIERO. Projected onto a H14×W6m rear screen and 60m length ceiling with 16 projectors.
---
2007: The Legend of Kung-Fu Produce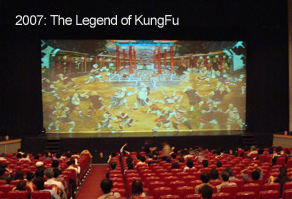 Co-produced "The legend of Kung-Fu Japan Tour" with China Heaven, the biggest stage company in China.
---
2007: Sapporo City Jazz Produce >Official Website >Photo&Movie
Vey First Geodesic Dom, which can project images 360 degrees inside and outside with high luminance projector, in Japan(Also known as White Rock). White Rock has been the main venue for the festival.
---
2009: Leonie(Movie) Produce >Official Website
Starring : Emily Mortimer, Shido Nakamura
---
2010: Eclair お菓子放浪記 Produce >Official Website
Won the Best International Male Actor on Golden Rooster Awards2011(China) The Movie has shown in 65 countries.
---
2011: 500m Museum Construction >Official Website
The underground passage museum in the central Sapporo.
---
2012: TIGER & BUNNY THE LIVE Produce >Official Website  >Movie
An animation based live performance at Zepp DiverCity. Participated in the production, the visual system and the hardware.
---
2012: Jinjin(Movie) Produce >Official Website
Starring : Yasuo Daichi, Kie Nakai On cinema 18 of May 2013
---
2013: Sapporo Snow Festival Produce >Movie
3D projection mapping show (Snow Statue)
---
We create new business model and share inspirations and joy of life by pursuing infinite possibilities of projection images.
Prism will never stop pushing our boundaries as one of the leading companies in the industry.